Posts
Final Thoughts (or, What do we do with the rest of our summer?)
Spain deserved to win
Holland deserved to lose
Brazil deserved to lose to Holland, too
(Since when and why did two of the world's most talented footballing nations decide to resort to foul play?)
Diego Forlan deserved the Golden Ball award
For rising to the occasion
For scoring some of the greatest goals of the occasion
And for smiling throughout the occasion
Even when his last shot of the tournament, in the 3rd place match, hit the crossbar
So very nearly equalizing for Uruguay against Germany
Which would have given him the Golden Boot award too
Ghana fans watching that last gasp must have laughed
As loud as they had booed Uruguayan Suarez through that 3rd place game
Commentator Ian Darke thought it "disgraceful"
But the disgrace was neither the crowd reaction nor the handball against Ghana itself,
But Suarez boasting about it afterwards
About the real hand of God,
Cos what you give is what you get
(And Darke is an annoying pillock anyway)
Spain could have won more fans
If they'd scored more goals
But at least they played attacking football,
Passing football, relatively clean football
And ultimately winning football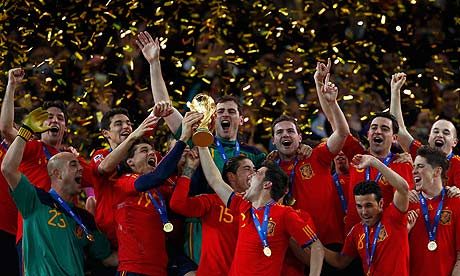 The USA could have won more fans
If they'd stayed in the Cup beyond Ghana
But still, something clicked in the States this time around
That wasn't evident even eight years ago
When the USA reached the last eight
Beating Mexico and Portugal to get there.
Was it that Team USA's games fell on weekends this time
And against the likes of England,
Ensuring mass television audiences
That were impossible eight years ago
When the games were held in South Korea and Japan
And broadcast during the night in the States?
Was it that Team USA quickly pitched themselves as the Comeback Kids
With those last-minute goals and inherent drama?
Or is that the sport is finally coming of age,
That the wheels set in motion with the 1994 World Cup
And the subsequent founding of the Major Soccer League
Have seen a new generation grow up playing the game,
Loving the game, watching the game?
Either way, more people watched USA-Ghana than any football match
On American TV ever before
More than watched last year's baseball World Series, on average
More than watched almost all this year's NBA basketball final play-offs
It's still not 10% of the nation's population
It's still not on the level of the Super Bowl
There's a long way to go
But it's a start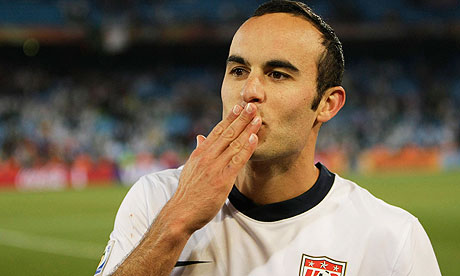 England deserved to go home as early as they did
To be honest, they were lucky to get out of their group
They were uninspired, uncreative, seemingly disinterested
Unfocused, undisciplined, disorganized,
Almost visibly adversarial and frequently petulant,
There's no one man to blame
Not Rooney (who had clearly not recovered from his late season injury)
Not Green, not Heskey, not even Capello
Nor the referee who blindly failed to notice the ball dropping a yard over
The line against Germany
England were simply not very good
And if my reading of the tea leaves back home is correct
My birth nation has finally come to grips with what the rest of the world has long known
That England are simply not very good
On current form, however
They're a damn sight better than Italy or France
Watching the French disintegrate was painful
A reminder of all that is wrong in football and nationalism
Watching the Italians deliberate too long to advance
Was joyous however
It's about time they paid a price for not playing to their best
At all times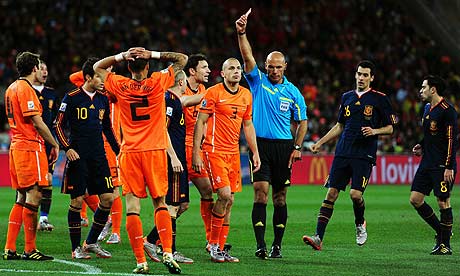 England are not very good
And nor, at the end of the day, are English referees
Howard Webb was as bad in the Final as Malian Koman Coulibaly
in the USA against Slovenia
Webb issued a record number of yellow cards
Yet failed to red card oranger De Jong for one of the most
Disgraceful tackles ever seen in a World Cup Final
Referee of the tournament award must surely go to Viktor Kassai
for the Semi-Final between Spain and Germany
Where there was no foul called for a full thirty minutes
But then credit goes to the players, too, for playing clean.
That game was a joy to behold
And, as I has subsequently been noted,
Was as close to a 1-0 thrashing as you'll ever see.
(Did Spain change their tactics for the final?
Or once the whistle blew for kick-off, and the boots flew at the body,
did they just decide to match Holland kick for kick?)
South Africa deserves credit
For pulling off the first Sub-Saharan Finals
With dignity, exuberance, and flair,
And for all that I heard of travel troubles and the occasional robbery
None of the horror stories that had been predicted
Congratulations Africa.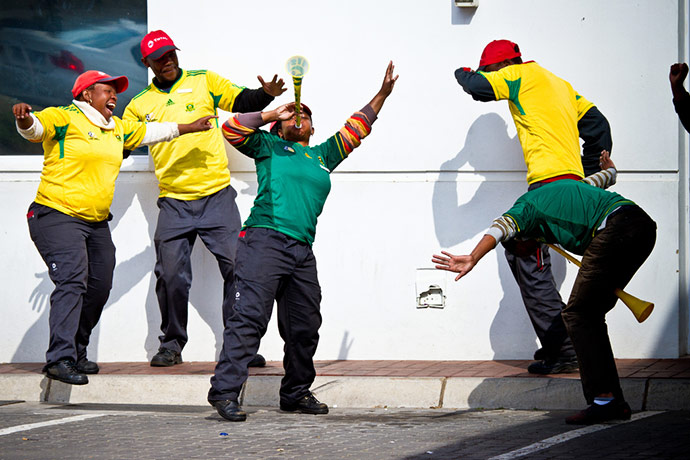 The fans deserve credit
For treating the World Cup as a festival of nations
Not an excuse for a ruck
And for giving us the vuvuzelas
A much more gratifying sound than "God Save The Queen"
And for also giving football something it has long needed in Europe and the USA
A large number of black faces in the crowd
To match those that now dominate on the field
Congratulations, Africa
Jon Stewart and John Oliver deserve credit
For turning the Daily Show with Jon Stewart into one of the best
– and certainly the funniest –
nightly World Cup analysis programs on American TV
Stewart knows the sport, loves his team
And knows how to get maximum laughs out of his English sidekick
who in turn turned "F*** you" into one of the most frequently bleeped
phrases of the tournament
I deserve credit (I think)
For not watching every minute of every game, especially in the First Round
And not watching any game in a bar until the last of the last 16
When finally on vacation in New Jersey (cradle of modern American soccer, you know)
Though one year I plan on just taking the month off and watching every single game
You deserve credit
For reading this stream of consciousness
New Zealand deserve credit
For being the only unbeaten team in South Africa
That's the beautiful thing about the beautiful game
It rarely goes to plan
Finally, Nike deserve credit
For producing perhaps the most expensive TV commercial
in the history of the World Cup
And one which essentially served to demonstrate
that he who is hyped on TV
Is not guaranteed to shine on the field.
Look at this list of superstar players in the three-minute commercial
That were shown in all their footballing so-called glory:
Didier Drogba, Fabio Cannavaro, Wayne Rooney, Franck Ribery, Ronaldinho and Christiano Ronaldo,
None of them made it past the last 16, one of them didn't even make it to South Africa,
At least three of them were an absolute disaster
These are the players who were shown in the ad
watching from the wings
(or rather reading from the headlines):
Landon Donovan and Tim Howard, the acknowledged heroes for the USA
Then Cesc Fábregas, Gerard Pique, and Andrés Iniesta
Of Spain
One of whom literally won the World Cup
Wise enough not to waste time playing football in a Nike ad
These three played it on the pitch instead
The field,
Whatever.
At least they played football
Soccer
Whatever.
And brought home the Jules Rimet trophy
The World Cup
Whatever
Congratulations Spain,
you deserve it.
Related Posts
Discussion
3 Comment(s)